NHI caps off first-ever digital CWS program with award ceremony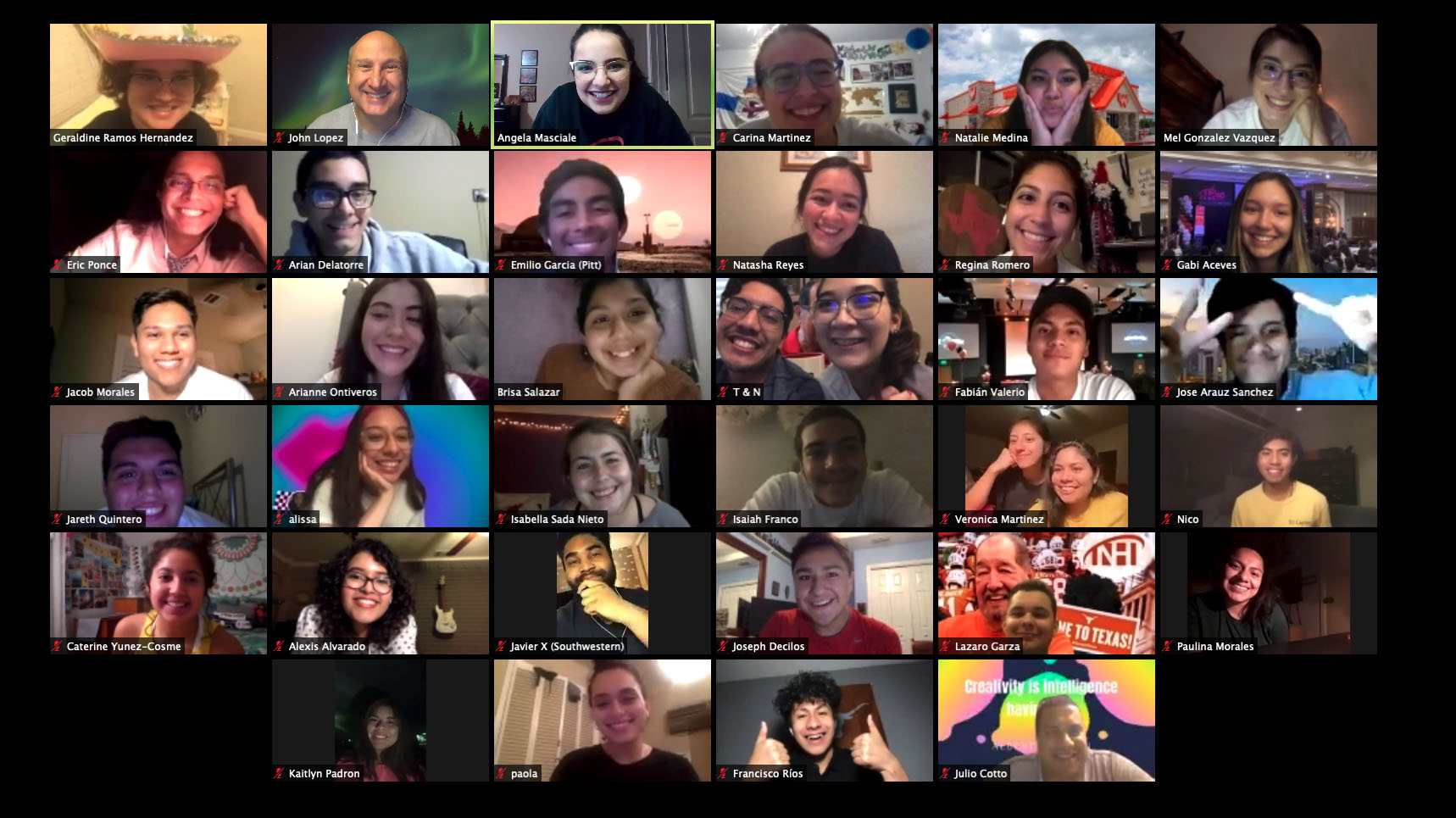 This article is by Tomas Miriti Pacheco. 
The first-ever CWSx concluded Tuesday with the Awards and Student Recognition Ceremony. It capped the two-day program, honoring the 160 participating students for the work they put into understanding the college application process and how it fits into the overall development of Latino leaders.
After two intense days online with NHI trainers, college admissions professionals, undergraduate mentors, and high school volunteers, CWS participants were congratulated for their achievements and the team champions were announced. The CWSx featured 16 university partners, with students in teams of 10 students each, representing the schools in competition and guided by representatives from those schools through the process.
The team members worked together to complete five challenges that included doing a deep dive into the application, the resume, the professional profile via LinkedIn, the essay, the interview, and financial decision making.
"The NHI staff and volunteers came together to put together a fun and engaging program for our participants," said John F. Lopez, Co-Educational Director for the program. "The students were able to hone their skills in preparation for the coming year and their upcoming college applications. More importantly, they were challenged to examine how the skills they learned could impact not just their college applications, but also their role as leaders in the Latino community".
"Being online meant we had to get more creative in coming up with ways to engage students in discussion," Lopez noted. Breakout rooms helped to give the individual teams the chance to do small group discussions. The staff was able to incorporate video into the program, and the students used text and online chats to bond with each other."
"Our staff was incredibly crafty in creating new ways to form bonds over the digital sphere," echoed Co-Educational Director Angela Masciale. "My favorite methods of community forming were: Using Zoom backgrounds to tell stories meaningful to the participants, 'quick home scavenger hunts' to find an object meaningful to speak about, and using Discord 'lounges' for informal connections after each day's program ended."
Community proved to be equally important for the staff as for the students. "NHI HQ worked with alumni to set the tone and learning expectations weeks before the program started, which helped the learning curve lessen in terms of getting the students in the right mindset for this digital program," Masciale continued. "I'm incredibly proud of the students' willingness to dive in and exemplify our NHI Fundamental #5: Engage with Enthusiasm and Rigor."
The winning team members, competing under the Emory University banner, included:
Adalia Rivera, Cotulla High School, Cotulla, Texas
Alejandro Rodriguez, IDEA South Flores, San Antonio, Texas
Diego Balderas Rivas, Fossil Ridge High School, Fort Worth, Texas,
Emilee Sanchez, Uplift Williams Prep, Dallas, Texas
Guadalupe Gonzalez Torres, Ann Richards School for Young Women Leaders. Austin, Texas
Julie Tift, Young Women's Leadership Academy, San Antonio, Texas
Lauren Gonzalez, Communication Arts High School, San Antonio, Texas
Lorraine Betancourt, Palmview High School, Palmview, Texas,
Regina Garcia Escobedo, Escuela Sierra Nevada Interlomas, Huixquilican, Mexico
Sarah Louis, Donna Klein Jewish Academy, Boca Raton, Florida
Additionally, MVP Awards were given to each of the team members who best exemplified Fundamental #5:
Annabel Serna, Coronado High School, El Paso, Texas (American University)
Gabriella Alba, Warren Township High School, Gurnee, Illinois (Baylor University)
Tabitha Anaya, United High School, Laredo, Texas (Elizabethtown College)
Regina Garcia Escobero, Escuela Sierra Nevada Interlomas, Huixquilican, Mexico (Emory University)
Gabby Perales, Incarnate Word High School, San Antonio, Texas (Florida International University)
Maria Fernanda Chavez, IDEA San Juan, San Juan, Texas (New York University)
Nicholas Tapia, Richard King High School, Corpus Christi, Texas (Schreiner University)
Paridhi Agarwal, Uplift Summit International Prep, Arlington, Texas (Southwestern University)
Olivia Gouveia, El Paso High School, El Paso, Texas (St. Edward's University)
Sarah Solis, Poudre High School, Fort Collins, Colorado (St. Mary's University)
Ricardo Montiel, IDEA Mission, Mission, Texas (Texas A&M University – San Antonio)
Ethan Vergara, Waukegan High School, Waukegan, Illinois (University of Denver)
John Venegas, Yes Prep Southeast, Houston, Texas (University of Northern Colorado)
Valeria Puente, Yes Prep Southeast, Houston, Texas (University of Pittsburgh)
Natasha Flores-Acton, Central High School, San Angelo, Texas (University of Texas at Arlington)
Eric Peterson, TMI Episcopal, San Antonio, Texas (Vanderbilt University)
Students who still want to participate in a 2020 CWSx program still have a chance: There's a second edition of the digital learning program, taking place July 22 and 23, with limited spots available. Check out the summer program application page on the NHI site to get started.
This program was sponsored in part by State Farm, Union Pacific, and the University of Denver.