NHI to Hold CWS at the University of St. Thomas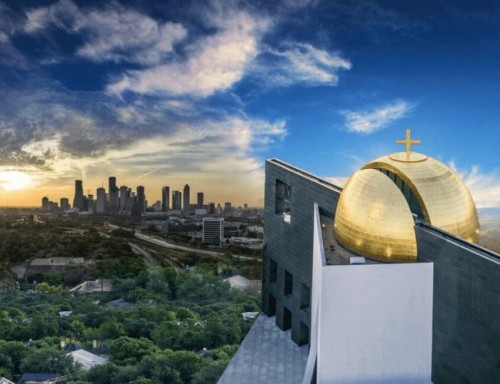 The National Hispanic Institute (NHI) is happy to announce its continuing partnership with the University of St. Thomas – Houston — a prominent Catholic university in Houston with renowned student to faculty ratios— for its upcoming 2023 Collegiate World Series (CWS). The University of St. Thomas boasts not only an environment steeped in faith and respect but also a diverse campus with students coming from 61 different countries.
The Collegiate World Series is one of the longest-running programs that NHI provides for high-achieving rising seniors. Through the strong contributions of Angela Cardenas, NHI alumnus and supporter of the University, and NHI-St. Thomas alumnus Marc Nieto, NHI and St. Thomas forged a new partnership to host up to 125 students this summer for this exciting program from July 26th-30th, 2023.
"The University of St. Thomas is proud to partner with the National Hispanic Institute in service to rising high school seniors who want to get ahead on their college applications next summer. Students from Houston, as well as nationally and internationally will convene on our campus, deep in the heart of Houston, to meet peers who are aspiring to higher education, and get specialized training from St. Thomas officials and other university officials. If you're interested in gaining a competitive edge, join us here in Houston and we'll get you ready," Daniel Garcia, UST Rising Stars Director, said.
The CWS curriculum blends knowledge-based learning with soft-skill development. It's nice to identify someone to write you a letter of recommendation, but how you ask for it can make a big difference. It's nice to agree to a college interview or even a job interview, but your soft skills make you stand out. And as far as essays go, sometimes students have a hard time extracting meaning from an important life experience to write about. The CWS is a place where they will connect the importance of bringing together their stellar resumes with a strong self-promotion package.
What a lot of people don't know about the CWS is that there is a second component – a component for the "long game" in life. NHI introduces its highest-level of concepts through inquiry-based challenges. "All too often, students jump to conclusions without exploring the possibilities…this causes wrong turns in life…The CWS process creates spaces for deep thinking around issues and challenges. It allows students to think about actions, consequences and outcomes before they happen…students leave the CWS with a process they can use to be more sure-footed about big decisions," said Nicole Nieto, NHI Executive Vice President.
NHI provides a platform for student leaders to discover and hone new leadership skills in this 5-day adventure which is sure to be a milestone they will never forget. More than 100,000 alumni have graduated from NHI programs to take on myriad leadership roles, including members of Congress, local executives, state legislators, and business and professional leaders in an array of sectors.
"I am so glad I attended the 2020 CWS because I had the opportunity to meet students who had applied and gotten accepted into some of the institutions that I also wanted to apply to. Best of all I had the opportunity to get personalized feedback from an admissions officer at Cornell University," said Yarselyn Flores, a former CWS participant. Flores' achievement and completion of CWS is one that should not be taken lightly – today she is a student at the University of Chicago, one of the nation's premier institutions of higher learning.
CWS is NHI's highest level of leadership development featured in the program, and as such you can't officially graduate from NHI's leadership programs without completing the CWS.
While NHI developed digital versions of all three of its programs out of necessity during the pandemic, this year's NHI-University of St. Thomas partnership will be one of the in-person programs for NHI students that will be run in 2023.
For more information on the CWS or to register, please visit the CWS page on the NHI website. For more information about St. Thomas University, please visit its website at University of St. Thomas | Catholic University Houston, Tx (stthom.edu).
The National Hispanic Institute sincerely thanks State Farm for its support of the Collegiate World Series program.