D.C. trip, engineered by NHI alumna, inspires 2022 American LDZ students
For the first time ever in 2022, the National Hispanic Institute convened the American LDZ (Lorenzo de Zavala Youth Legislative Session) at St. Mary's College of Maryland. Over the course of eight days, about 160 students from 14 states, plus Panamá, Mexico, and the Dominican Republic came together to participate in the legislative session.
Because it's less than a two-hour drive away from Washington, D.C., NHI was able to add an extra dimension to this program. Thanks to a lot of hard work and organizational acumen from NHI alumna Veronica Morales — former Communications Director in the House Committee on Financial Services — students experienced the nation's capital in an incredible way.
"When I heard that students were going to come to Washington, D.C.," Morales explained, "what I envisioned is for them to be able to meet members of Congress, and for members of Congress to have robust conversations with Latino youth, rising Latino leaders in each of their Congressional districts."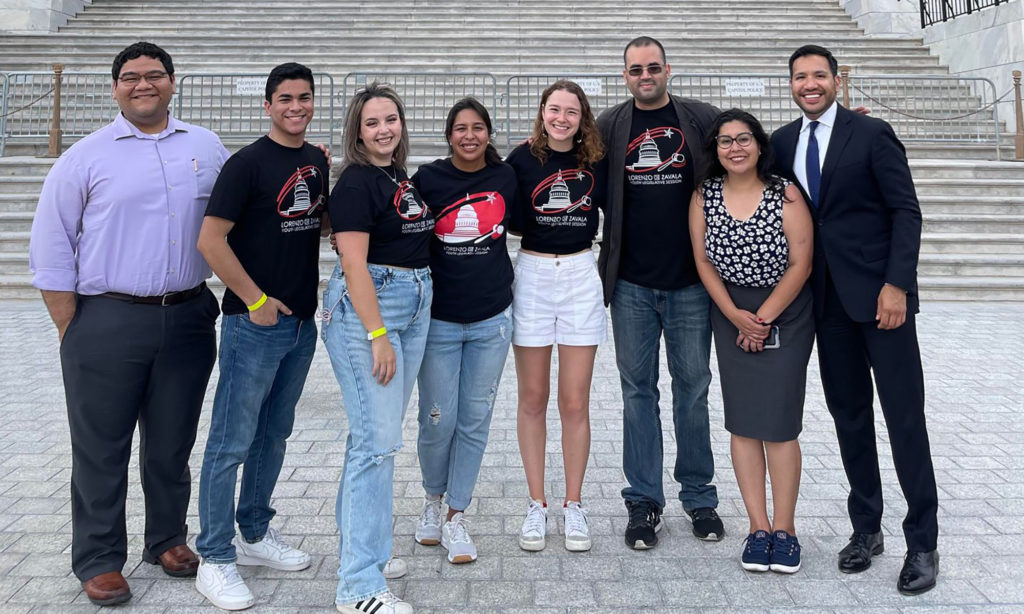 Indeed, a number of the 2022 American LDZ students had the opportunity to meet either representatives or staff members from their districts during their visit to Capitol Hill — even in the midst of an intense day of voting – while others opted for a National Mall trip to see some of the capital city's most inspiring monuments and museums.
From its beginnings with the Texas LDZ bringing students into the Texas State Capitol, NHI's flagship program has provided students with an incredibly immersive experience, but the 2022 American LDZ was altogether on a different level.
In one notable case, Morales was able to connect 26 students from the Dominican Republic with Rep. Adriano Espaillat, the first-ever Dominican-American Congressman and an icon in the Dominican-American community.
For Mia Sophia White of Loretto Academy, who got to meet her El Paso representative, Rep. Veronica Escobar, the experience was incredible.
"The main thing that struck me was … how friendly she was. She wasn't necessarily intimidating, it was more welcoming, and heartwarming. I was almost about to get emotional, because I didn't expect to go on that trip and meet someone from Congress, especially someone in representation of my hometown. It was very eye opening."
White went on to note that Escobar asked them individually about the program and the proposals they were forwarding in their LDZ program. She observed, "That gave us a good idea of who she was really, because when you think of people like in power, you kind of forget that they're human. And so it gave us a sense of humanity – 'I can talk to you, you're a real person.'"
Morales noted that another student, Ricky Kamenetz from Grant High School in Portland, Ore., got to meet the staff of Rep. Earl Blumenauer — including the Congressman's chief of staff, who also went to high school at Grant.
"I got to meet all the staff," he recalled. "And that was really fun. It was cool to see all this in action; while I was there, they were actively writing amendments for I believe it was the defense spending bill."
"I expected something very sanitized, to just go in and say hello, and then they would send me on my way, basically like a photo opportunity. I didn't think it was going to get to see things going on." He added that he's had an interest in politics and government for a while, and noted, "This experience made me all the more interested."
Morales was also excited to be able to connect students with Rep. Vicente Gonzalez of McAllen, Texas, representing the state's 15th District.
Although Natalia Marquez, of Saint Francis High School in Mountain View, Calif., opted to see the city rather than just focus on Congress, the experience proved inspirational for her. "It definitely was some inspiration," she noted. "While I was in D.C., I figured out more what I wanted to do after high school, after college, to go into law – which is pretty interesting how D.C. can do that someone."
She noted that just being in D.C. around the people and the environment was inspiring. "Seeing so many different points of views – we saw a couple of rallies, and it was very interesting to see National Hispanic Institute and a very right-wing conservative rally crossing paths on the same street, and being able to hold a conversation. It was very eye opening."
Marquez also is now looking to go to college on the East Coast to begin that journey, in order to be close to the D.C. epicenter.
Ryan Cataldo, from Haddonfield Memorial High School in Haddonfield, N.J., also opted to tour the city, and marveled, "I did 24,000 steps that day!"
For Cataldo, who served as vice president during the American LDZ, posing with his fellow students on the steps of the U.S. Capitol was a particularly special moment.
"And that made me think we really should have a bigger place in our representation, in Congress, in the House of Representatives. I'm happy that we got the experience to be here and all gather and partake in the LDZ, to practice these public speaking persuasion skills, really being active members of the community." 
The NHI wants to extend a big thank you to the National Forestry Service for their partnership and support in providing funding for the American LDZ.