NHI returns to its roots with Colorado LDZ program at Colorado State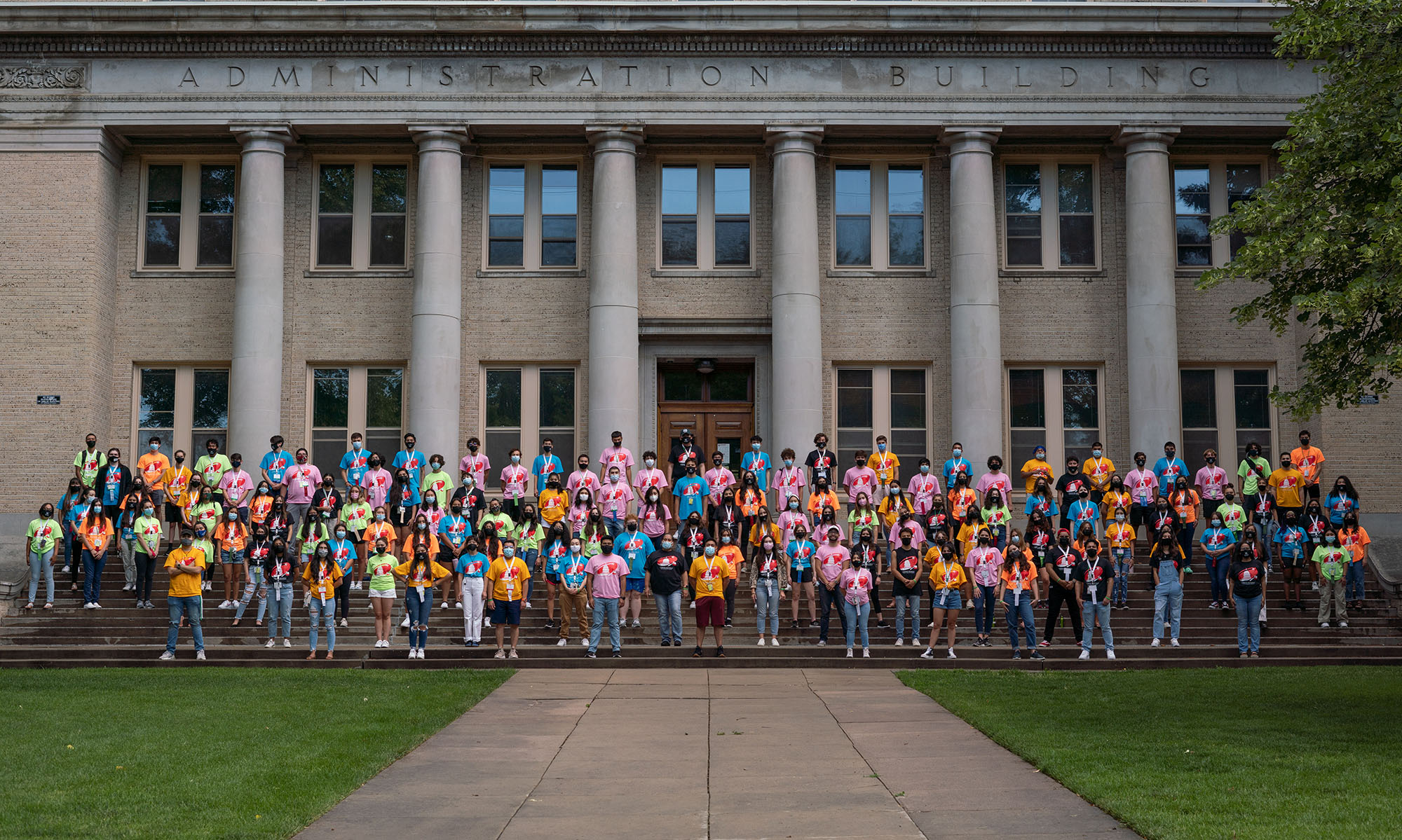 The Colorado Lorenzo de Zavala Youth Legislative Session — better known as the Colorado LDZ — welcomed 113 students to Colorado State University, continuing a National Hispanic Institute tradition spanning more than 30 years that was able to resume from its one-year pause in 2021.
The program brought together students from Mexico and Puerto Rico as well as six U.S. states (Colorado, Idaho, Illinois, Maryland, New Jersey, New York and Texas) for the eight-day immersive leadership experience that allowed students to interact in LDZ's long-established tradition.
Lia Carpio, a veteran NHI volunteer working with the Colorado contingent of students who served as the program's Educational Director, was happy to see NHI return to its Centennial State roots at this year's Colorado LDZ.
"I think what we experienced during the pandemic amplified the importance of connecting with community and the necessity of creative problem solving," she observed. "The Colorado LDZ exemplified both of these things. This year's group of 113 delegates was committed to important conversations about the future of the Latino community and identifying the core values they felt were most important to their proposals. Besides that, I think we were all just happy to be in community together and excited to be the first LDZ this summer to welcome participants back to our partner institutions."
"We're really excited that we're one of the longest-standing NHI programs on campus," said Connie Jaime-Lujan, Associate Director for Access and Success at CSU, at the opening ceremonies. "We just love it. It's a great partnership … it does feel like a family."
Santiago Zimbron of Fort Collins HS, Fort Collins, Colorado, served as Chief Justice for the session, with Nathanael Lara, Central Catholic HS, San Antonio, Texas, fulfilling Speaker of the House duties, Jacob Mitchell, Round Rock HS, Round Rock, Texas, serving as Lt. Governor, and Mariel Soto, from PrepaTec in Monterrey, México, serving as Governor.
An incredible 10 different proposals were passed into law during the 2021 Colorado LDZ legislative session. Those included
A PROPOSAL TO: Build personal and Community Wealth for Minority Cultural Groups Through Serving Cultural Groups, by Justice Christina Li, Coronado HS, El Paso, Texas
A PROPOSAL TO: Implement Critical Race Theory in K-12 Schools, by Representative Josephine Farias, Providence HS, San Antonio, Texas
A PROPOSAL TO: Create a Housing Authority for Immigrant Field Workers and Bring Educational Resources for Their Community, by Representative Julissa Hernandez-Alejandre, Caldwell HS, Caldwell, Idaho
A PROPOSAL TO: Implement Free Technology Resources to All Students in Public Schools, by Senator Diego Funes, Escuela Sierra Nevada, México, México
A PROPOSAL TO: Make it Mandatory to Use and Teach Critical Race Theory in Education Nationwide, by Senator Mia Warren, Highlands Ranch HS, Highlands Ranch, Colorado
A PROPOSAL TO: Promote Awareness About the Availability of Resources in a Community, by Senator Izabela Jimenez, Round Lake HS, Round Lake, Illinois
A PROPOSAL TO: Require and Improve Foreign Language Programs in American Public High Schools, by Senator Malachi Miller, Fountain Valley School, Colorado Springs, Colorado
A PROPOSAL TO: Increase Nutritional Education in School, by Senator Ricardo Gomez, Jefferson HS, Edgewater, Colorado
A PROPOSAL TO: Educate Migrants During Detainment to Create a Safer Environment for Them, by Cabinet Member Juliana Serena, Pueblo Central HS, Pueblo, Colorado
A PROPOSAL TO: Further Job Wages And Job Opportunities For Immigrants, by Representative Valery Lechuga, Pueblo East HS, Pueblo, HS
Awards earned by students at the program included:
Most Distinguished Representative: Julissa Hernandez-Alejandre, Caldwell HS, Caldwell, Idaho
Most Persuasive Representative: Josephine Farias, Providence HS, San Antonio, Texas
Outstanding Legislator, House of Representatives: Christian Quinonez, Compass Community Collaborative School, Fort Collins, Colorado
Best Debater, House of Representatives: Javier Fuentes, Poudre HS, Fort Collins, Colorado
Best Author of a Resolution, House of Representatives: Saribel Ufret, Academia Maria Reina, Guaynabo, Puerto Rico
Most Distinguished Senator: Izabela Jimenez, Round Lake HS, Round Lake, Illinois
Most Persuasive Senator: Mia Warren, Highlands Ranch HS, Highlands Ranch, Colorado
Outstanding Legislator, Senate: Natasha Gallegos, Jefferson HS, Edgewater, Colorado
Best Debater, Senate: Malachi Miller, Fountain Valley School, Colorado Springs, Colorado
Best Author of a Resolution, Senate: Ricardo Gomez, Jefferson HS, Edgewater, Colorado
Most Distinguished Attorney: Roxanna Ortiz, Veterans Memorial HS, Brownsville, Texas
Most Outstanding Member, Supreme Court: Noah Morales, Cooper HS, Lubbock, Texas
Best Orator: Christina Li, Coronado HS, El Paso
Top Attorney Teams: Carolina Loa, Adams City HS, Commerce City, Colorado and Alvaro Solis, Escuela Sierra Nevada, México, México; Roxanna Ortiz, Veterans Memorial HS, Brownsville, Texas and Elizabeth Gomez Solis, Harrison HS, Colorado Springs, Colorado