NHI presents first Summer 2021 edition of Digital College Fair on July 6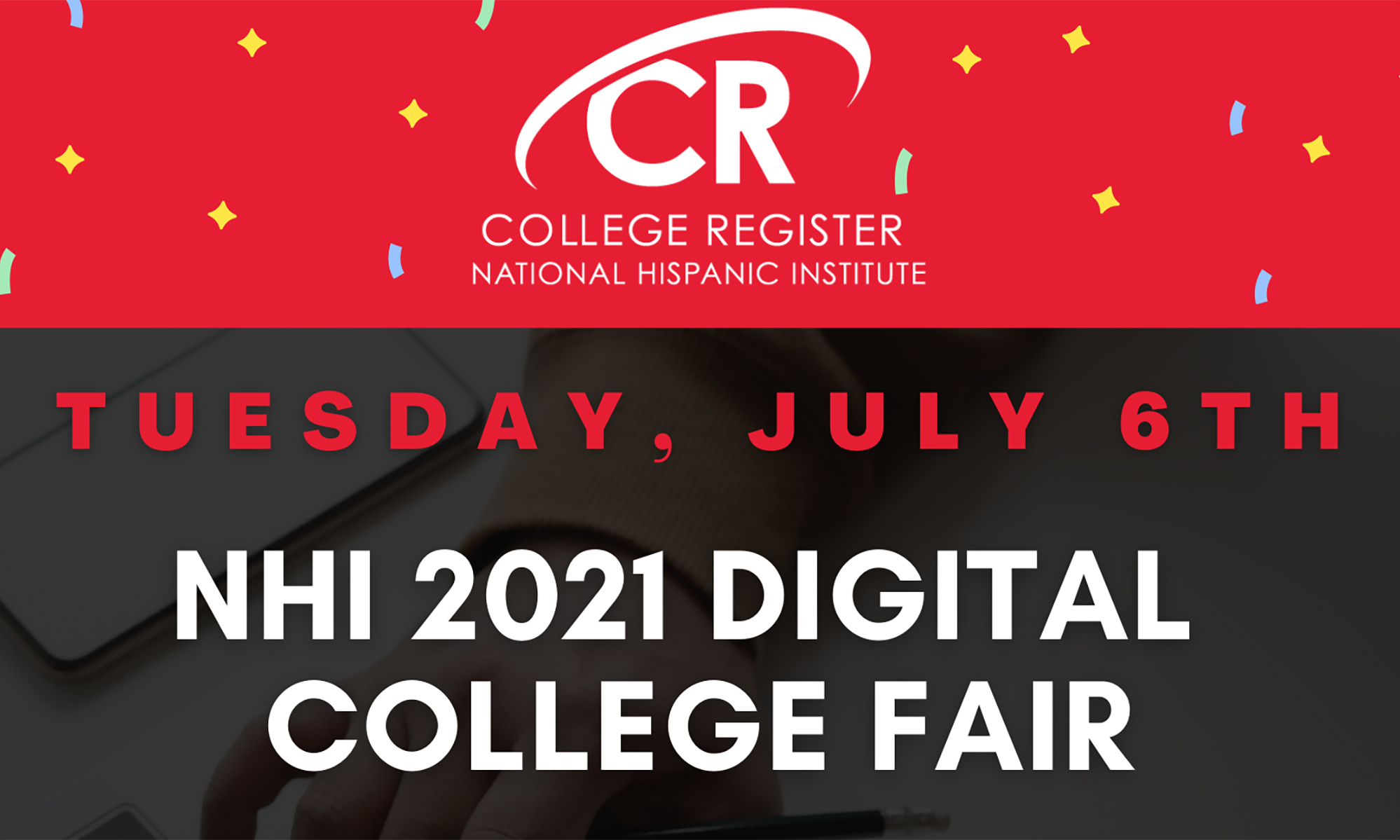 The National Hispanic Institute will be staging its first NHI Digital College Fair of Summer 2021 — an innovation borne of last year's pandemic — will take place this Tuesday, July 6. The online experience will allow university representatives from numerous institutions to congregate online, and will allow participating students to visit with a number of them in a single two-hour period.
"Both last year and in February of this year, NHI held college fairs where many students had meaningful conversations with NHI College Register members in this digital space," said Nicole Nieto, NHI's Executive Vice President, overseeing Tuesday's event. "Many students applied their communications training from the GDx or their networking skills from the LDZ or CWSx to make strong, positive and lasting impressions with admission representatives."
The NHI Digital College Fair event, taking place from 11 a.m. to 1 p.m. CT, involves the following institutions (with some last-minute additions possible):
Adelphi University
American University
Austin College
Case Western Reserve University
Central Connecticut State University
Concordia University Texas
Elizabethtown College
Elmhurst University
Glendon Campus of York University
Macalester College
McDaniel College
Neumann University
Northwestern University
Purdue University
Rhodes College
St. Edward's University
St. John's College
St. Mary's College of Maryland
Southwestern University
Texas A&M University-San Antonio
Texas Tech University
Trinity University
University of Denver
University of North Texas
University of Pittsburgh
University of Redlands
University of Saint Francis
University of South Alabama
University of the South (Sewanee)
University of Texas at Arlington
Vanderbilt University
Nieto has advice for students who are able to attend — even if they only have thirty minutes to check in — to maximize their time and utilize one of NHI's best resources for college-bound students.
Make sure you have good lighting
Try to be in a place that doesn't have a lot of noise interference
Place yourself in a space where you can pay full attention to representatives
Wear your best color and present a scholarly appearance
Gather your thoughts and wear a smile
Get the names and email addresses of the people you meet in order to follow up
Be enthusiastic about going to college!
To sign up for the July 6 event, click this link to go to the registration page. If you need a video tutorial to learn more about the event, check out this video created especially for NHI students navigating the college fair.
While there will be another college fair later this summer, the roster of schools may change for the second 2021 event, depending on representative availability.