Carlos Paz, Jr. named 2018 NHI Person of the Year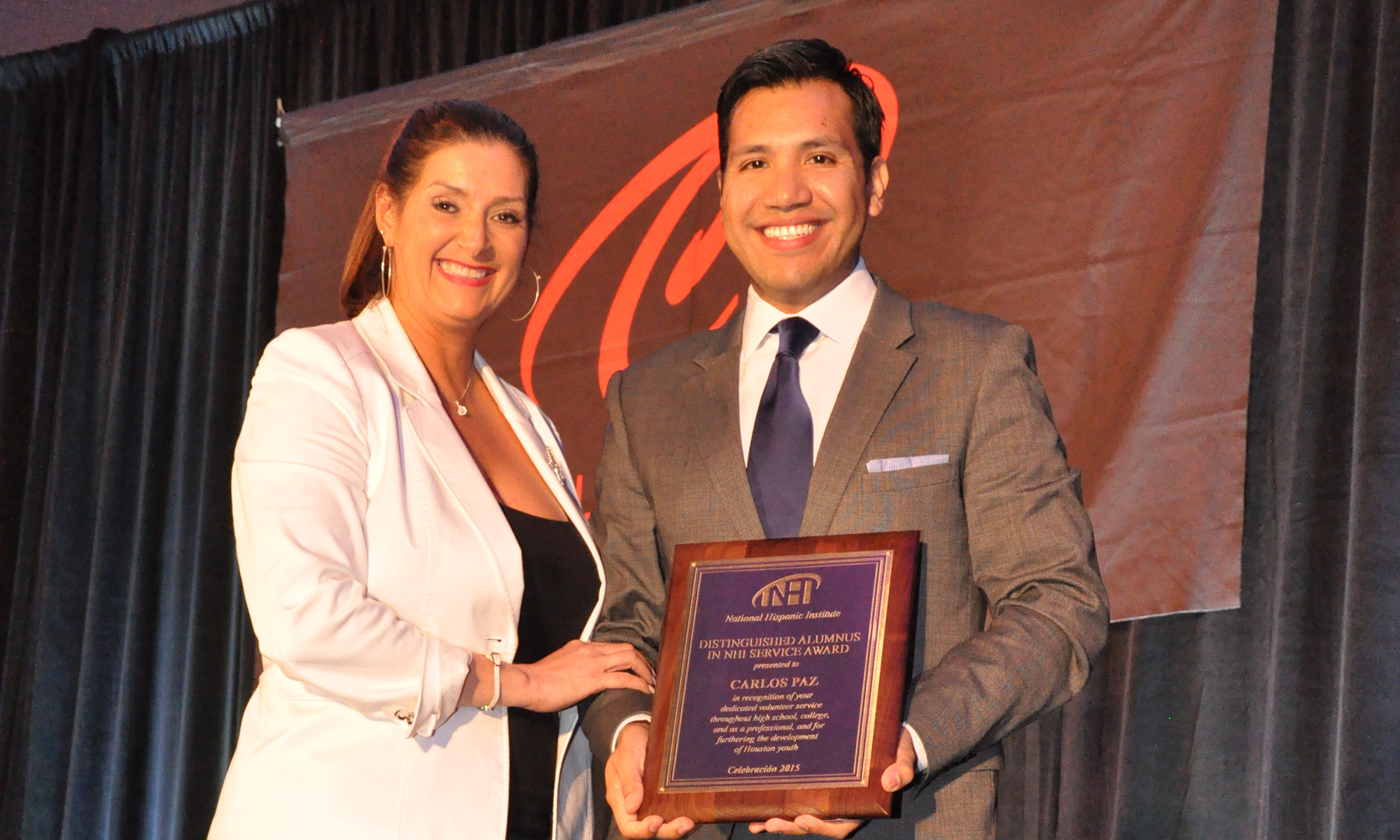 Carlos Paz, Jr., whose involvement with the National Hispanic Institute spans nearly 20 years — and who just started in a new role with Senate Minority Leader Charles Schumer, after a successful two years with the Congressional Hispanic Caucus — has been named 2018 NHI Person of the Year by NHI Founder and President Ernesto Nieto.
Paz, who recently served as the Deputy Chief of Staff to CHC Chair Michelle Lujan Grisham, joined Schumer's staff as Director of Hispanic Media and Press Secretary last month, and will play a substantial role in the upcoming 116th Congress which begins its term later this week. That body, of course, will include two NHI alumni as members of the House of Representatives — Xochitl Torres Small and 2017 NHI Person of the Year Alexandria Ocasio-Cortez.
Paz's involvement with NHI dates back to 2001, when he participated in the Texas Great Debate. He went on to the LDZ and far beyond high school in his NHI involvement, most notably as a longtime regional director in Houston.
Paz has been honored by NHI before; in 2015, he was named an NHI Distinguished Alumni even before rising to his three highest profile positions to date — with Schumer's office, with the CHC, and as the Texas state lead for the 2016 Hillary Clinton presidential campaign. DC Beat, covering Paz's move to Schumer's office, described him as a "bilingual communications expert" and noted his NHI work as part of a resume that also, prior to joining the CHC, included work with Congressman Gene Green's office.
In an April 2016 NHIMagazine.com article, Paz noted, "Every single great step in my life: college, service to community, jobs, traveling the world, is rooted in and affected by my NHI leadership experiences. I love NHI because it's family, it's OUR organization, it's where I find courage and meaning, it's where I practice leadership, it's where I learned to be inspired and learned to inspire, it's been a vehicle to create community and get young people to dream big! At NHI, I receive as much as I give."
"Carlos has been involved with NHI for so long," said Sonia Lopez, the current Project Administrator for NHI at Houston, who co-directed the program with Paz for a number of years. "In the past couple of years, he's taken on this mission to go to Washington, D.C., and get involved with politics there. He's really climbed up the ladder quickly, and has done a great job of positioning himself at the table and creating opportunities for others. He really embodies NHI."
"Carlos is much more than a person who went through NHI," Nieto noted, echoing Lopez in remarking that all his siblings participated in NHI and went on to college, and adding that even his mom is still active in working with Houston-area NHI students.
Nieto notes that while Paz is on a different approach to last year's Person of the Year, he is still positioned well to make an impact on issues of import in the next few years. "He's an insider who cautiously and patiently works the process of change," Nieto noted. "Where he is today with Senator Schumer is indicative of his willingness and capacities to serve at the highest levels of government. In other words, you don't always have to be in the limelight to make progress. Often, success comes from learning to be patient and waiting for the right moments to influence outcomes."
With this announcement, Nieto continues the tradition — established last year — of announcing the Person of the Year honor as a last action of the year for NHI, announcing via NHIMagazine at five minutes to midnight on the last day of the year. Humberto Saenz was named the inaugural NHI Person of the Year for 2016; the designation is reserved for a member of the NHI family who has exhibited exceptional leadership and ambassadorial qualities both within and outside the organization.