Ernesto Nieto inspires University of Findlay on Wilson Fellowship tour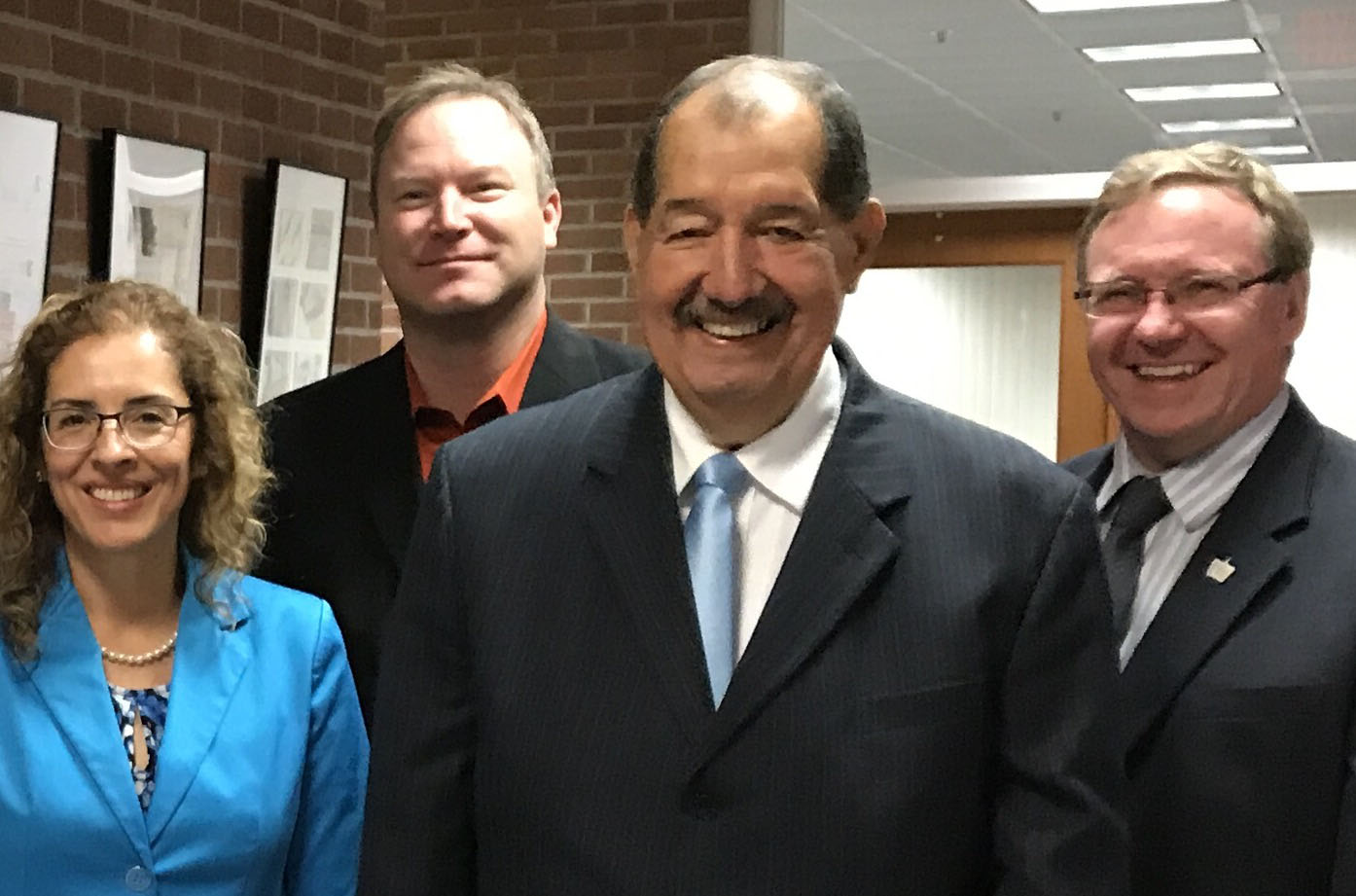 National Hispanic Institute alumni and students know Ernesto Nieto best as its president and founder, but in academic circles around the nation, he's also known as a Woodrow Wilson Visiting Fellow. The honor, bestowed on him in 2015 by the Council of Independent Colleges, allows him to speak to audiences and engage with students—and he's done that last week at the University of Findlay.
Nieto's trip was highlighted by a lecture titled "Community Social Entrepreneurship: A New Social Concept for Leadership in the Latino Community." Nieto also took in a number of classroom visits, meeting with deans, department heads, and student organizations; NHI Executive Vice President Gloria de Leon also played a significant role in the Findlay trip.
"The speech was well-received, and caused great interest in NHI's work, philosophy, and especially its way of working with young people," Nieto reported. "I provided a brief review of the conditions leading to the era of protest in the 1960s, and challenged the students to envision how they were preparing to become the next change generation, and for what social good. I ended with asking the university leadership to determine if they were there merely to train students for their careers, or whether they also wanted to engage students, as we do, to create a new America."
According to the CIC website, "For more than 35 years, the Woodrow Wilson Visiting Fellows program has brought prominent artists, diplomats, journalists, business leaders, and other nonacademic professionals to campuses across the United States for substantive dialogue with students and faculty members. Through a week-long residential program of classes, seminars, workshops, lectures, and informal discussions, the Fellows create better understanding and new connections between the academic and nonacademic worlds."
The Findlay visit was well-received by professors and students alike. Dr. Marie Louden-Hanes, a professor of art history at Findlay coordinating the visit, declared, "From the first day of his arrival until his departure from our campus on Thursday morning last week, we witnessed Ernesto's positive impact on the campus. Over and over again we watched students edging closer to hear more, to linger when the class was over, to stay behind, to sign up for another event, to ask more questions, to investigate answers, and to look differently at their roles as students and, perhaps, as future leaders and game changers. Ernesto proposed a new plan for self-discovery. And the students listened. The questions reflected deep explorations of the self that had come from Ernesto's questions to them: what are you going to do with your life beyond your educational degrees?"
"Ernesto's presentations were conversations," she added. "His gift is engaging listeners as active participants in the conversations. The conversations prompted the students to begin asking themselves…what is the answer to that question?  How can I help shape this new world?"
Debra Parker, Dean of the College of Pharmacy, said, "Having Dr. Nieto and his wife Gloria on campus was enlightening. Hearing him speak first-hand of the people with whom he interacted in the 1960s Civil Rights movement, and how he came to focus his efforts in a different manner in the following decades, was truly an enriching experience. He brought to all of us a message that was inspiring, and unlike traditional mindsets about minorities, the focus on the positive and important contribution Hispanics make in the U.S. culture will have a lasting impact on all who heard him speak."
Students responded positively to the visit. Hanna Cederholm, a student from Sweden, noted, "Dr. Nieto had the biggest influence on my during the dinner at Circle of Friends and when I got the opportunity to talk to him by myself on the night of his speech. He gave me a lot of new ways of looking at society and those ideas will be valuable for me in my growth as a human."
Miguel Alfredo Valdez, looking beyond school toward making a difference in Mexico upon graduation, said that his interactions with Nieto were insightful, "reinforcing the idea that there is a higher meaning in our life than just get a job for the sake of making money and earn a living. It made me feel like I have a responsibility to embrace who I am, give back to the community where I am from and help others, not only by giving them help, but by showing them some light in their potential so they turn their dreams into projects."
Carlos Blanco, one of the school's ambassadors for the WWVF program, said Nieto's visit impacted him greatly, elaborating, "He made me see the world from a different perspective. He kept me thinking what impact or difference am I going to be doing for this world in a few years from now, what is special about me, and how can I contribute to make this world a better place."
Another ambassador, William Bibler, noted, "Over the course of Ernesto's and Gloria's visit, it became clear that they wanted us to challenge ourselves and determine how to be a positive force in the community. They shared stories on how they decided to fit for the greater good by helping others to achieve their personal goals and dreams. Ernesto and Gloria emphasized that we should not focus entirely on our careers because we have the opportunity to shape the future landscape of America. Ernesto and Gloria were two wonderful people and it was an honor and privilege to get to know them. This experience was one that I will never forget."