From NHI to the White House: Andrea Ambriz's Story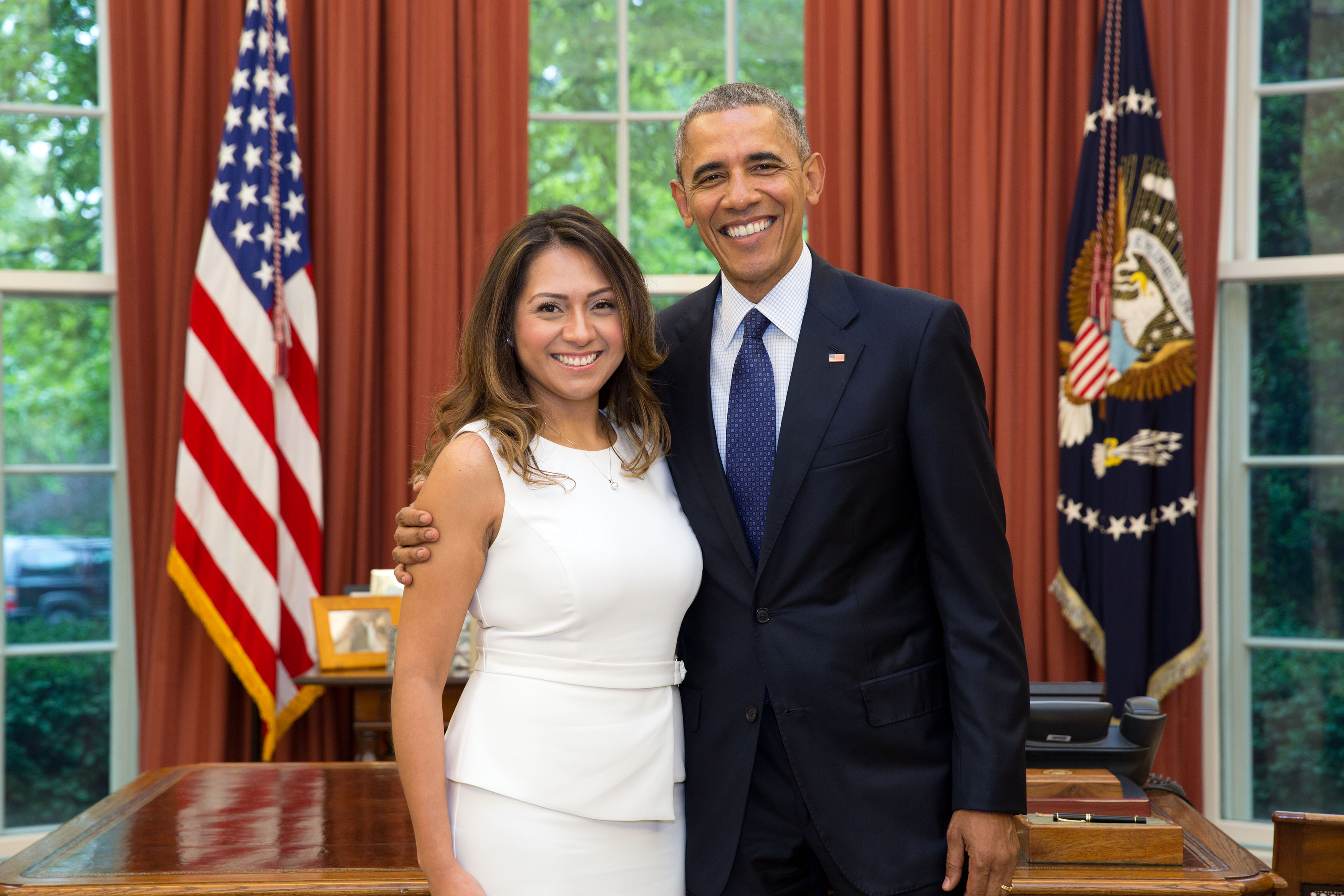 Andrea Ambriz remembers her first National Hispanic Institute experience, back in 1999, when the Claremont Colleges in Southern California hosted an LDZ program. "The people there were so committed to being part of a strong community," she remembers. "I was impressed with the rich experiences of these people, who'd come from Texas and Arizona to be part of this program."
As a student at an all-girls' Catholic high school in Southern California, Andrea distinctly recalls she didn't have the great number of Latina peers she'd met through LDZ and a subsequent CWS program in Santa Clara. She was certainly reading Latino and Latina authors and thinking about her identity, but NHI helped her bring that perspective into focus like nothing she'd encountered in school.
NHI also helped Andrea achieve something that is now core to her being – an understanding of how the political process works. Going through LDZ helped her fully understand elections, debates, and the legislative process. "It was empowering, and by placing myself in the environments that NHI allowed us to be in" – namely, in college and in a legislative incubator – "I could see myself there."
Andrea's journey was further propelled by NHI, when she learned that the college she wanted to attend, DePaul University in Chicago, offered scholarships to NHI students. She continued her public policy studies via graduate school at the University of California at Berkeley, worked as a legislative aide in her home state, and was then hired for the first of a number of public policy posts at the Department of the Treasury. At one point in her career, she was working in Washington, D.C. but Skype-ing into her graduate classes at Berkeley to keep moving toward her degree.
After being part of a three-person team at the Department of the Treasury, for an 18-month project to help launch a new retirement savings account program for the private sector, called MyRA, Andrea was hired by the White House to become the Deputy Director of Private Sector Engagement.
"When people ask what I do, I can answer in two ways," she explains. "The very formal way to say it is that I'm the presidential liaison to top business executives, addressing the impact that White House initiatives can have, and providing those executives guidance. But the job is really about being able to help people in so many ways by bringing the White House and these companies together. I talk to leaders at organizations that represent everyday workers, students, and young professionals. Together, we get to do incredible things."
The first-ever White House Briefing on Diversity in Corporate America, which took place last month, was a particularly important focus for Andrea. Valerie Jarrett, President Obama's longest-standing senior advisor, spoke to Fortune recently about the event's importance in contributing to a necessary culture change.
Though Andrea is focused on professional responsibilities that could potentially be all-consuming, she's also focused on her own community through mentoring young Latinas – a continuation of community-building that goes back to her days at DePaul, where she worked to help create a scholarship program for Latino and Latina high school students.
"I don't see it as work," she said of mentoring. "I know that if no one had done that for me when I was younger, I wouldn't be where I am today. I see it as paying it forward, but also paying it back. It's important to help uplift other people if we're going to create a whole generation of leaders."
She's also attuned to the global nature of the Latino community based on her own experience growing up – her father was born in Mexico, immigrated to the United States, and only became an American citizen when Andrea became an adult. "I became more aware of how he was looked at when I became older, and became more aware of the evil nature of exclusivity. But growing up, we'd spend summers in San Diego with my grandparents, who also came over from Mexico, and it wasn't a big difference to me then. I was surrounded by people who looked like me."
As President Obama will be leaving the White House next January, Andrea's thinking about her next post. Inspired in part by the latest State of the Union speech and its call for businesses to serve the greater good, Andrea is contemplating moving from government to business as a next step. But she'll do so with an awareness of how integral community is to public policy – lessons that first came to life for her at NHI.